Summit craters of the Etna volcano
---
---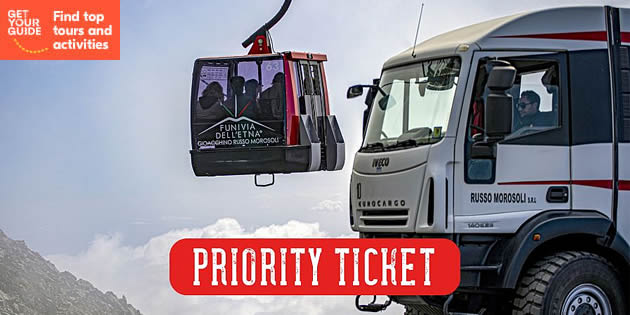 Climb to the summit of Mount Etna with your priority access roundtrip cable car ticket. Tour the volcano at an altitude of 9,500 feet aboard a unique 4x4 bus and walk around with a volcano guide.
---
The Summit Craters of Etna are crater depressions, impregnated with sulphates, from where most of the explosive activity takes place. Etna has various summit craters: the Central, the Bocca Nuova, the South-East and the North-East, all high between 3200 and 3300 m. The possibility of reaching the summit craters depends on the emission conditions of the same and on the direction in which the wind is blowing.
One of the preferential ways to reach the summit area is the itinerary that starts from Rifugio Sapienza, a tourist resort in South Etna, via the cable cars and jeeps of the Etna cableway. Access from the Torre del Filosofo onwards is regulated by an ordinance that prohibits climbing without the aid of a qualified guide.