Spite House in Petralia Sottana
---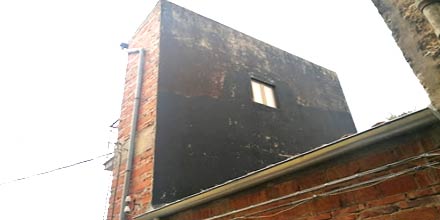 In Petralia Sottana there is one of the most curious buildings in the world, the House of Spite, also known as "Casa du Currivu".
Its peculiarity is that it is one of the narrowest houses in the world and that it was born as a result of a quarrel between close relatives.
The history of this curious house dates back to the 1950s when the owner decided he wanted to raise his home to get a few more rooms. At the time, before proceeding with the work, it was sufficient to ask the neighbors for permission. However, this authorization was not granted by his brother-in-law, his neighbor, because any enlargement would have obstructed his panoramic view. The owner considered this refusal a serious offense and decided to plan his revenge. He turned to the municipality where they replied that without the consent of the neighbor it was not possible to build unless the distances required by law were respected. So he decided to build a house that respected the legislation, whose construction the neighbor could not oppose. Thus was built the house of spite: only 1 meter wide from the main facade to the rear, whose only function was to obstruct the precious view to the dear neighbor. A large panoramic balcony was also built on the external façade, while the internal façade, facing the neighbor, was painted black
The house is located in a side street of the SP29 located at number 14.
---