Dummusi of Pantelleria
---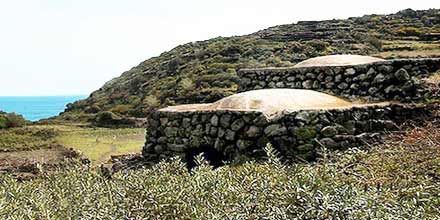 Mediterraneanweb - CC3.0
The Dammusi are the typical buildings of the island of Pantelleria, outside the inhabited centers it is the only type of housing present.
They are the result of the Arab influence and the work of the many farmers on the island of Pantelleria. They are characterized by thick lava stone walls and a domed roof. These elements perform a particular function: the domed roofs allow rainwater to be conveyed into the cisterns; while the thick walls and the small dimensions of the doors and windows guarantee thermal insulation both in summer and in winter. Generally, next to the Dammuso there is a circular structure in lava stone called Jardinu inside which fruit trees are grown, which are thus protected from the incessant wind that beats the island. Inside there are no doors between the rooms but only a succession of alcoves and corridors.
Today, respect for this tradition has transformed these farm buildings into houses with a unique charm.
---
---