Legend on the origin of Trapani
---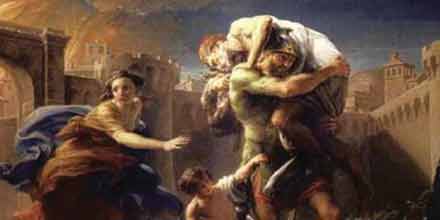 The birth of Trapani is linked to mythology and to the sickle shape that the strip of land on which it stands takes on.
An ancient legend tells that Ceres, goddess of the earth and fertility, lost a scythe while traveling through Sicily on a winged chariot in search of her daughter Proserpina, kidnapped by Pluto. The sickle that fell into the sea changed into an arched tongue of land on which Trapani rose, then called "Drepanon", "sickle" in ancient Greek, given the shape it assumed.
According to another mythological tradition, Trapani is instead arose from the scythe that fell from the hands of Saturn after castrating his father Uranus. Saturn was in fact the patron god of Trapani and still today you can admire a statue that portrays him placed as an ornament of the fountain located in piazzetta Saturno, in the historic center.
---