Legend of the Holy Crucifix of Ribera
---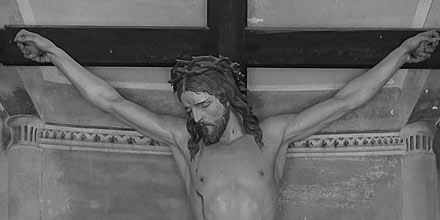 Syrio - CC4.0
The legend of the Holy Crucifix of Ribera tells the story of its discovery which took place by the hand of a baker.
According to popular tradition, a baker from Ribera used to go on a donkey's back to Seccagrande to collect wood for her oven. One day in this place she found the simulacrum of the Crucifix. The woman loaded the crucifix onto her donkey and carried it to her home. The following Sunday the woman prepared the dough for bread, put it to leaven, and went to the Mother Church to attend the Holy Mass. When he returned he found the bread already baked and steaming. She told the church what had happened to the archpriest of the time, who told the woman that it would be better to take the statue to church. The woman followed the archpriest's instructions and took the crucifix into the Matrix for the first time, but the next day it was miraculously found in the woman's house. We tried it a second time, but the same thing happened. The third time out of devotion a faithful thought of applying a silver plate to the side of Christ, which is still visible today, and so the Crucifix remained in the church.
It is said that when the statue was carried on the shoulder and the procession passed in front of the house. the statue became heavier than the baker, as if it wanted to return to that place. Today, in memory of this legend, the fercolo, passing in front of that house, is made to stop and goes back and forth three times.
---