Places of "Il 7 e l'8" - Palermo
---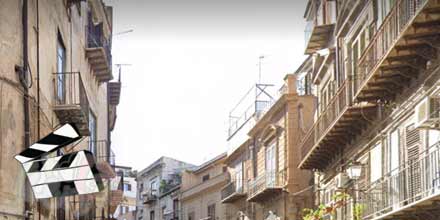 The film "il 7 e l8" by the comic duo Ficarra and Picone was entirely shot in the streets of Palermo.
Il 7 e l'8 is a 2007 film, directed by Salvatore Ficarra, Valentino Picone and Giambattista Avellino and starring the Palermo comedy duo Ficarra and Picone. Together with the two comedians, the dancer Eleonora Abbagnato makes her film debut in the film.
In "Il 7 e l'8" the two comedians play Daniele and Tommaso, both born on the same day and in the same hospital. In January 1975, a nurse purposely swaps the cradles of two babies. Thirty-one years later, the fates of the two, now adults and with very different backgrounds, cross with unexpected results.
The two comedians have chosen their city for the realization of this comedy: The crossroads where they clash for first time Tommaso e Daniele is the Piazzetta Montesanto while Tommaso's house is located in Piazza del Ponticello. The film features many other glimpses of Palermo: Piazza della Kalsa, via della Cannella, Viale della Libertà, the Faculty of Law of the University of Palermo, the Ucciardone prison ...
---