"Inspector Montalbano" - Ragusa
---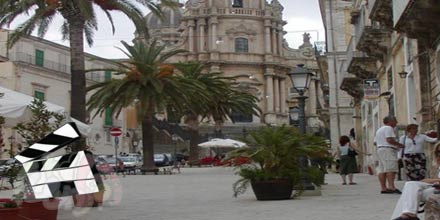 Giuseppe Avola - CC3.0
The Cathedral and the square of Ragusa Ibla return in many episodes of the television series of "Il Commissario Montalbano".
The series, based on the novels of Andrea Camilleri, tells the story of Salvo Montalbano, police commissioner in the imaginary Sicilian town of Vigata, whose central square and Mother Church are the square and the cathedral of Ragusa Ibla .
There are many glimpses of the city that can be admired in the various episodes of the series.
In several episodes the Conversation Circle of Ragusa appears, a place where Montalbano often visits Doctor Pasquano intent on playing cards. There are many scenes shot both inside and outside the Club. In particular in the episode "The paper moon" the Commissioner enters the smoky rooms of the Club and meets Pasquano who, visibly annoyed, will be forced to answer his questions.
Another place that appears in many episodes of the series is Corso XXV Aprile . The course is often traveled by Montalbano and other characters in the series and also on this road is the "Ristorante da Calogero", the place where Montalbano, in the first episodes of the TV series, usually goes for lunch.
Nell ' episode "Par condicio" to set some scenes are the quarries of cava Gonfalone where Montalbano brings together the leaders of the Mafia families of Vigata: the Cuffaro and the Sinagra.
In several episodes he also appears Piazza San Giovanni . In particular, in the episode "The potter's field" Montalbano crosses the whole square and enters one of the lower ones under the churchyard of the Cathedral where there is a butcher's shop where he will try to collect clues.
---