Places of "Il Gattopardo" - Palermo
---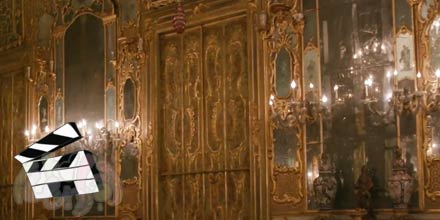 Many scenes of "Il Gattopardo" were shot in Palermo, including the famous dance scene shot in the Palazzo Valguarnera Ganci.
Il Gattopardo is a 1963 film directed by Luchino Visconti, starring Burt Lancaster, Alain Delon and Claudia Cardinale. The subject is taken from the novel of the same name by Giuseppe Tomasi di Lampedusa, and the figure of the protagonist of the film, the Leopard, is inspired by that of the great-grandfather of the author of the book, Prince Giulio Fabrizio Tomasi di Lampedusa who lived in the era of the end of the Kingdom of the Bourbons. The title of the film, on the other hand, refers to the coat of arms of the Tomasi di Lampedusa family in which a leopard is placed in the center. The film won the Palme d'Or as best film at the 16th Cannes Film Festival.
The Leopard is a great classic of Italian cinema, it is the story of an era that is always current: the term "leopard" still comes today indicated to indicate political and social events closely linked to change, renewal and repositioning of the dominant party. At the time, many noble families of the Sicilian aristocracy experienced this change trying to adapt to the arrival of the new nobility. Prince Don Fabrizio also tried to adapt to the change and for this he supported the marriage between his nephew Tancredi and Angelica Sedara, daughter of the new Mayor, representative of the new nobility.
The film was shot almost entirely in Sicily: in Palermo, Cimmina and Piana degli Albanesi. Only a few scenes were shot in Ariccia, Rome.
The scenes of the arrival of Garibaldi's Thousand of the clashes with the Bourbon army that were shot in various locations in the city of Palermo: Piazza Magione, Piazza San Giovanni Decollato, piazza della Vittoria allo Spasimo, piazza Sant'Euno, piazza della Marina and other places in the Kalsa district. The church of Casa Professa, which Father Pirrone reaches at the suggestion of Prince Salina is the Municipal Library which, in reality, is located next to the church of Casa Professa.
The residence of the Salina palace was set in the Villa Boscogrande , an 18th century palace located on the Piana dei Colli in Palermo. In the scenes shot inside the villa it is possible to recognize the hall of the villa, where the rosary is recited, and the octagonal room where the prince tells Father Pirrone to accompany him.
The central scene of the dance of the film il gattopardo was shot in the hall of mirrors of the Palazzo Valguarnera Ganci, a historic residence eighteenth-century of Palermo. The film also features the terrace of the palace, on which some guests are entertained, which overlooks Piazza Sant'Anna.
---