"Born tired" - Palazzolo Acreide
---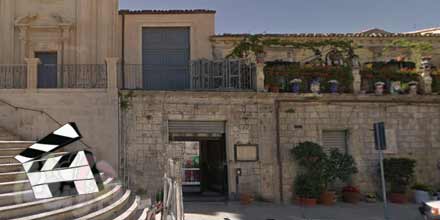 The events of the film "Born tired" are set in the streets of the magnificent village of Palazzolo Acreide.
"Born tired" is a 2002 film directed by Dominick Tambasco and starring the Sicilian comic duo Ficarra and Picone. The film tells of two Sicilian unemployed, Salvo and Valentino, who try to escape their families by participating in public competitions, which they hope not to win to avoid facing adult life. A trip to Milan following an application for a job as a librarian leads the two to get into a lot of trouble with the mafia and the police. Back in Sicily, Salvo and Valentino will discover with amazement that they have won the competition; they will needlessly rely on a lawyer to appeal. They will understand that it was Don Ciccio who recommended them, envious of the carefree and free life of the two friends. Once the competition has been won, the date of the marriages with Loredana and Sandra, the respective girlfriends of Salvo and Valentino, should be fixed, to whom the latter had promised to marry them if they won the competition. The attempt to set fire to the Town Hall to destroy the publications, both by boyfriends and girlfriends, convinces everyone to cancel the wedding.
Different glimpses of the village of Palazzolo Acreide are recognizable in the film: the Passalacqua bar where Salvo and Valentino the days pass is found in Piazza del Popolo in Palazzolo Acreide; above the bar is the house where the mafioso Don Ciccio Milazzo lives. The church where Tony gets married is the Church of San Sebastiano; the shop where Salvo and Valentino's girlfriends work, the barber shop where a gentleman runs in making a joke about the candidate for mayor and finds inside the mafioso of the village Don Ciccio, and the pub where Salvo and Valentino celebrate for the call for the competition of Milan with their girlfriends, they are all in Corso Vittorio Emanuele; the house of the bartender Passalacqua where Salvo and Valentino ring the bell in the middle of the night is in Ronco Cappellani; the building from which Valentino falls ruinously in an attempt to carry out an arson attack is the Palazzo Comunale of Palazzolo Acreide in Via del Monastero.
---