"New Cinema Paradiso" - Cefalù
---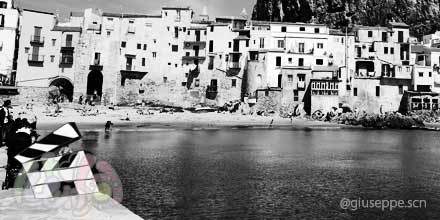 Giuseppe Scandura
Cefalù with its small harbor populated by boats and fishermen is the background to some scenes of "Nuovo cinema Paradiso".
Nuovo Cinema Paradiso is a 1988 film written and directed by Giuseppe Tornatore. The soundtrack was composed by Ennio Morricone, in his first collaboration with the director. Among the performers we remember Philippe Noiret, Salvatore Cascio, Marco Leonardi and Agnese Nano.
The film tells the story of the love for cinema and the life of the young Salvatore: the strong friendship with Alfredo, the projectionist of the small village theater of the province where he lives, the discovery of affections, the land of Sicily.
Some scenes of the film Nuovo Cinema Paradiso were shot in Cefalù: the beach where the film is shown outdoors in the summer is that of the marina of Cefalù. Among the scenes we can also recognize Via Aldo Moro, the place where the Salvatores follow the girl who looks so much like Elena, an old flame.
---