Places: "Respiro" - Lampedusa
---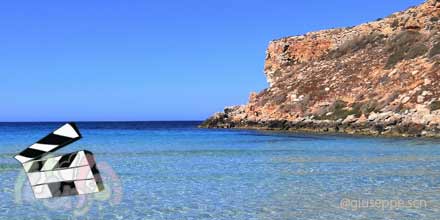 Giuseppe Scandura
The film Respiro was set on the island of Lampedusa and on its splendid Rabbit beach.
Respiro is a 2002 film directed by Emanuele Crialese, with Valeria Golino in the role of Grazia, the protagonist.
The film tells the story of Grazia, the young mother of three children, married to a fisherman, who is constantly looking for a free and happy life. Due to her depression and the closure of the world in which she lives, she is soon considered crazy by her family and by the other islanders who try to have her interned in a clinic in Milan. With the complicity of Pasquale, one of the children, the woman pretends to have disappeared at sea.
The film was entirely shot on the island of Lampedusa. Among the scenes we recognize Via Tomasi in Lampedusa, the street where young people walk during the town festival. In via Francesco Cripsi is the house where Grazia and Pietro live with their three children, on the Lungomare Luigi Rizzo Grazia is stopped by the police while traveling on a scooter with two children. One of the most famous scenes of the film, when Grazia takes a bath with her children, was shot on the splendid beach of the Rabbits.
---
---