Ocean's twelve - Tonnara of Scopello
---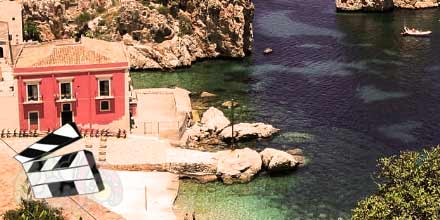 Giuseppe Scandura
The trap of Scopello and its stacks were the set for some scenes of the film "Ocean's twelve".
The film directed by director Steven Soderbergh and stars prominent figures of American cinema such as George Clooney, Brad Pitt, Catherine Zeta Jones, Julia Roberts, Vincent Cassel and Matt Damon.
The film tells the story of Danny Ocean and his a group of thieves, who are forced to pay their gambling debts, plan a robbery in Europe.
In the scenes shot at the trap of scopello, Brad Pitt and Catherine Zeta-Jones are seen strolling through the alleys of the factory. On the occasion of the clapperboard, temporary changes were made to the natural scenery. It was made of plasterboard, a terrace supported by a dry stone wall and an arched entrance. In the scenes shot we can recognize some buildings, once ancient fishermen's houses and storage of boats or nets, the clearing in front of the beach, in the past a landing and unloading place, stretches of the Faraglioni, the sea and its coast.
---