Brezi tradition in Piana degli Albanesi
---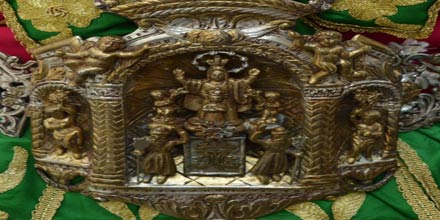 Asia - CC4.0
The Brezi is a belt that represents the main ornament of the traditional costume of Piana degli Albanesi.
The Brezi consists of a silver belt made up of plates joined in the center by a hand-carved stud. The boss depicts religious subjects, traditionally they are patron saints of the plain, such as for example San Giorgio, San Demetrio, the Virgin Hodegetria, San Vito, the Immaculate Conception and San Nicola.
The etymology of the word "brezi" it includes "brez", which in the Albanian language means "generation", "lineage", "descent", "progeny". The Brezi is in fact worn by women of Albanian culture as a symbol of motherhood. Whoever girds it hopes to have, through the intercession of the Saint, to whom the married couple devotedly entrusts itself, a good offspring.
The Brezi was given, during the engagement, in a traditional exchange of gifts, a few days before the wedding on the occasion of the display of the dowry, so used once, or of solemn holidays, to the future bride to wish her fertility.
---