Carnival in Sciacca 2023 Dates
---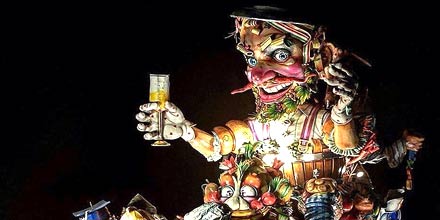 EndrexSoft - CC3.0
Dates and events program
The dates of Carnevale di Sciacca will be 20,21,27,28 Maj 2023, the last two weekends of Maj month. The events scheduling will be soon available.
Traditions
The Carnival in Sciacca is one of the best known carnival events in Sicily.
The Carnival begins with the symbolic delivery of the city keys to the king of Carnival Peppe Nappa, a local mask that opens and closes the party.
Parades of allegorical floats take place with Peppe Nappa's float at their head, from which wine and sausages prepared on the grill are distributed for the duration of the carnival. The celebrations end when Peppe Nappa's cart is burned in the square.
enjoysicilia.it is in no way responsible for any errors, omissions or changes due to unpredictable factors. We strongly invite you to check for any last-minute changes by visiting the website and social media of the event organizer whose links are indicated in the information field.
---