Feast of Vascelluzzo in Messina
---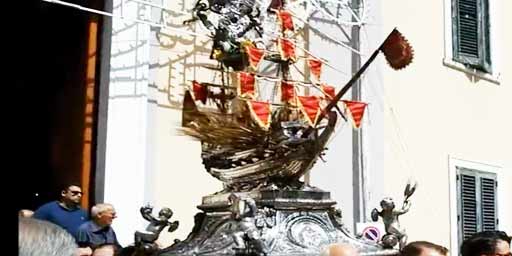 In Messina, on the occasion of the feast of Corpus Domini, the popular tradition of Vascelluzzo is revived every year.
The "vascelluzzo" is a three-masted vessel about one meter long with a wooden core covered with finely chiselled silver sheets that faithfully reproduce a galleon. A reliquary containing the hair with which, according to tradition, the Madonna tied the letter sent to the Messina in which she assured her protection over the city is fixed on two of the three trees. The vessel rests on a base, which has a marine wave motif, on which the faces of the founding sailors of the brotherhood of Santa Maria di Portosalvo are engraved.
Some historical events are linked to this precious simulacrum: the oldest dates back to 1302 when the city of Messina was under siege by the Duke Roberto of Calabria, but thanks to the supplications to the Madonna formulated by Alberto, a monk of the convent of Pozzoleone, ships loaded with grain and food arrived in port which saved the Messinesi; another episode dates back to 1603, a time when a terrible famine afflicted the city, and ships loaded with grain avoided the Strait of Messina for fear of raids. It happened, however, that a large ship from Greece, loaded with wheat, was overwhelmed by a miraculous storm caused by the Madonna and forced the boat to land in the scythed port, saving the city. In memory of these episodes, the Vascelluzzo is still covered with ears of wheat today.
The day of the feast of Corpus Domini the Vascelluzzo, covered with ears of wheat, after the function of Corpus Domini, is carried in procession from the church of Santa Maria dei Marinai to the Duomo, where the reliquary containing the hair of the Madonna is fixed. In the afternoon the procession of the vascelluzzo takes place through the city streets, at the end of which the Vascelluzzo returns to the church of the Sailors where he is stripped of the ears that are distributed to the faithful along with small loaves of wheat.
enjoysicilia.it is in no way responsible for any errors, omissions or changes due to unpredictable factors. We strongly invite you to check for any last-minute changes by visiting the website and social media of the event organizer whose links are indicated in the information field.
---