Feast of Domenica in Albis in Capizzi
---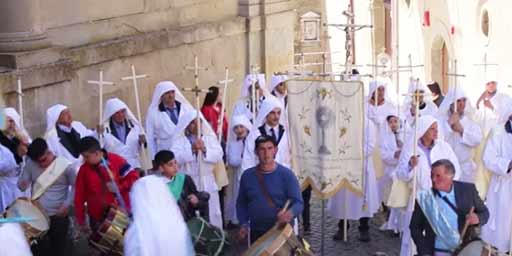 In Capizzi, on the Sunday following Holy Easter, the Feast of Domenica In Albis takes place, locally called "Duminica Nuedda", that is the feast of the Sunday of the Good News.
The most evocative moment of the feast is the procession of San Giovanni Bosco and of the Madonna delle Grazie which takes place after the solemn morning mass. To make the procession very suggestive is the participation of all the seven brotherhoods of the city, with their traditional clothing: a particular cape made up of a white sack, a hood with visor, a cape, a belt and gloves. Each fraternity has its own distinctive color and distinctive accessories: a drum, a banner, a pennant, a flag, torches, a crucifix and wands.
In the morning each fraternity gathers to the sound of the bell in its headquarters and then go to the Mother Church. Following, after the solemn liturgy, the exit and procession of the simulacrum of San Giovanni Bosco and the Madonna delle Grazie, covered with gold and ex voto jewels.
enjoysicilia.it is in no way responsible for any errors, omissions or changes due to unpredictable factors. We strongly invite you to check for any last-minute changes by visiting the website and social media of the event organizer whose links are indicated in the information field.
---