Feast of the Madonna of Trapani
---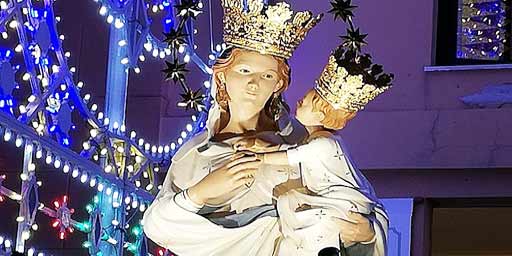 Effems - CC4.0
In Trapani, in August the celebrations are held in honor of the Madonna of Trapani, co-patroness of the city. The celebrations begin on the 1st of August with the fortnight and reach their peak between the 13th and 16th of August. of marble of the Madonna who is carried to the Cathedral. The original statue, which has not gone out in procession since 1954, is kept in the basilica of the Madonna di Trapani.
Day 15 August, at dawn, the traditional pilgrimage takes place from the Cathedral to the Sanctuary.
Day 16 August is carries out the procession of the simulacrum of the Madonna, carried on the shoulder and accompanied by the band, through the main streets of the historic center. In the evening the simulacrum returns to the Cathedral and the celebrations close with the traditional midnight fireworks at the "marina".
enjoysicilia.it is in no way responsible for any errors, omissions or changes due to unpredictable factors. We strongly invite you to check for any last-minute changes by visiting the website and social media of the event organizer whose links are indicated in the information field.
---