San Paolo Summer festival in Palazzolo Acreide
---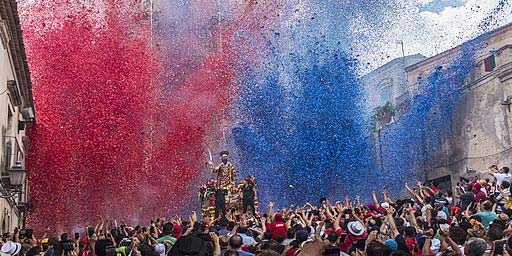 Davide Mauro - CC4.0
The summer feast of St. Paul the Apostle takes place in Palazzolo Acreide on June 29th. The festival has been registered on the Unesco list of intangible heritage. On this date, which commemorates the martyrdom of the Saint, the Patron Saint is thanked for the harvest of the year and for the graces received.
The feast begins on June 27 with the pilgrimage to the "San Pauluzzu" district and with the lighting of the spectacular illuminations of the Basilica dedicated to the Saint and of the square.
The traditional Giro di Gala takes place on June 28 with banners, flags, a historic horse picket and the "tammurinari" ", who parade with the band through the streets of the city. In the evening A Sciuta ra Camira takes place, the moment of the unveiling of the simulacrum, the sixteenth-century statue of St. Paul, which is greeted by the cheers of the devotees.
29 June, the day of the festival del Patrono, begins with the blessing and distribution of the ear of San Paulu and the so-called "U giro ro pani": A small cart is pulled by hand through the streets of the town by the faithful and collects the traditional "cuddure", breads in the shape of a donut decorated with snakes which are then blessed and sold in the churchyard.
Following the majestic and spectacular "Sciuta" , or "exit", of the vara with the statue of San Paul and the relic, between the launch of 'nzareddi, strips of colored paper, and spectacular fireworks that envelop the church in a cloud of color.
The procession follows in which one of the most evocative moments is the rite of denuding the children who are hoisted on the vara to be offered to the Holy to beg for protection. In the evening a second procession takes place, after which the simulacrum returns to the church. The party ends with a musical show and fireworks.
enjoysicilia.it is in no way responsible for any errors, omissions or changes due to unpredictable factors. We strongly invite you to check for any last-minute changes by visiting the website and social media of the event organizer whose links are indicated in the information field.
---