Great Feast of San Sebastiano in Melilli
---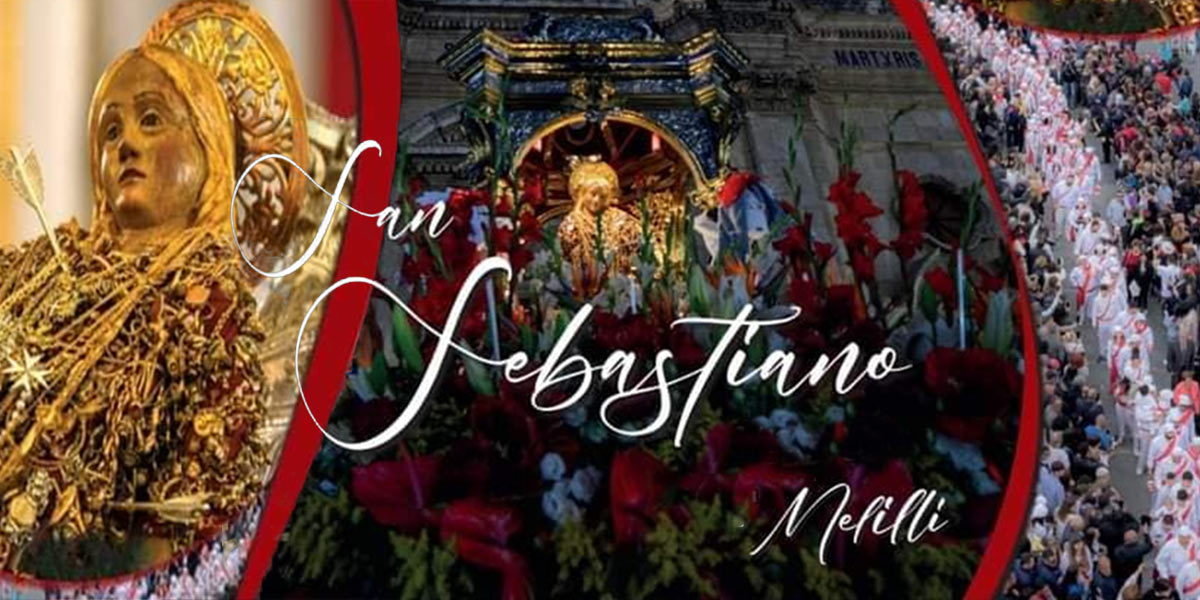 The Feast of San Sebastiano martyr in Melilli takes place on May 3 and 4.
The festival commemorates a miraculous event that occurred in May 1414 when the crew of a ship was miraculously unharmed following a shipwreck. The exceptional event was linked to the presence of a statue of San Sebastiano contained in a crate carried on the ship. According to tradition, when it was decided in which country of Syracuse the statue should be placed, suddenly the simulacrum became heavy for all those who tried to lift it except for the inhabitants of Melilli who carried the simulacrum of San Sebastiano in procession to the village, amidst songs of joy and religious hymns.
The feast of San Sebastiano in Melilli begins on the evening of May 3 with the procession of the silver reliquary: one arm holding an arrow.
The night between 3 and 4 May, the square and the main street are illuminated by day to welcome pilgrims who arrive on foot from neighboring villages and await the opening of the church.
At four o'clock on May 4, amidst the ringing of bells and firing of firecrackers the Church is opened. Around six in the morning, running, the nuri of Melilli arrive from the holy cross, and after the nuri of Sortino and Solarino, that is men, women and children dressed in white with handkerchiefs on their heads, red sash shoulder strap and on the hips, a bouquet of flowers in hand.
At ten o'clock we witness the triumphal exit of the fercolo, which is carried in procession through the streets of the historic center. The celebrations end on 11 May, when the simulacrum of San Sebastiano, after having walked the streets of the new expansion area, is kept in the basilica.
The May festival is also for many emigrants the occasion for a return to their homeland.
enjoysicilia.it is in no way responsible for any errors, omissions or changes due to unpredictable factors. We strongly invite you to check for any last-minute changes by visiting the website and social media of the event organizer whose links are indicated in the information field.
---