Feast of Our Lady of the Audience in Sambuca di Sicilia
---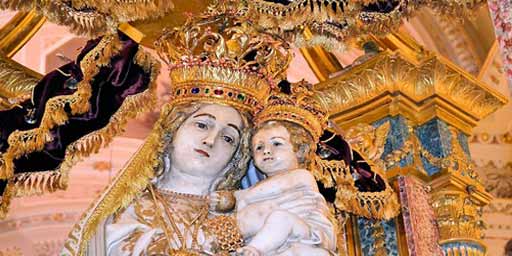 Guzzman85 - CC3.0
In Sambuca di Sicilia, the celebrations in honor of the Patron Saint, the Madonna dell'Udienza, take place on the third Sunday of May. On this day it is remembered when, in 1575, Our Lady gave "audience" to the citizens of Sambuca, saving them from the plague epidemic that devastated western Sicily.
The celebrations open with the historical re-enactment strong > which tells of the "Cholera Morbus", which claimed over 2000 victims in Sambuca, and of the prodigious intervention of Mary.
In the afternoon of the feast day, the traditional "scinnuta di la Madonna" takes place, that is "descent of the Madonna ", rite with which the simulacrum leaves the niche in and is placed on the" vara "that will carry it in procession. The rite is accompanied by prayers, religious and popular songs.
The traditional procession of the simulacrum of the Madonna dell'Udienza follows, which runs through the main streets of the historic center carried on the shoulders of the members of the Confraternity, dressed with special dresses embroidered in silk and gold. The procession lasts almost until dawn on Monday and culminates triumphantly with fireworks. During the night the simulacrum stops under the eleven crowns of the various Sambuco districts.
The festival is enriched by numerous collateral events, such as horse races, parades, concerts by bands and night lights.
enjoysicilia.it is in no way responsible for any errors, omissions or changes due to unpredictable factors. We strongly invite you to check for any last-minute changes by visiting the website and social media of the event organizer whose links are indicated in the information field.
---