Feast of San Filippo in Calatabiano
---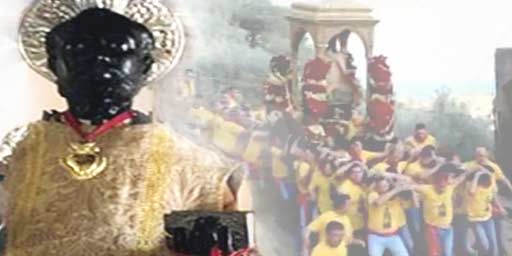 The celebrations for the patron saint of Calatabiano take place every year on the third Saturday of May and on the Sunday of the following week.
The traditional and suggestive "Calata di San Filippo", or "descent of San Filippo", takes place on the third Saturday in May. . In the morning, in the church of the Santissimo Crocifisso, the women take care of the dressing by decorating the fercolo with flowers that will remain until the end of the feast, when the devotees will take them with them because they are blessed. In the afternoon, the most awaited moment of the entire event takes place: "a calata di San Filippo" from the castle to the Mother Church, which is preceded by the historical procession with figures in period costume representing the court of the Cruyllas, a family that led to the splendor the castle of Calatabiano. The "descent" is announced by three cannon shots: it is a dizzying and spectacular race of the devotees who support the heavy fercolo. "of the saint from the Mother Church to the church on Monte Castello: the statue is carried on the shoulder and running along the steep path that runs between stones and steps. In just six minutes the destination is reached.
During the ascent, the saint is carried by people who aspire to participate in the Calata. According to tradition, one must take part in the "Chianata" for six consecutive years before obtaining a place under the vara for the Calata. threads of red, yellow and green, intertwined on the head that represent the threads of the beard with which St. Philip bound Satan.
enjoysicilia.it is in no way responsible for any errors, omissions or changes due to unpredictable factors. We strongly invite you to check for any last-minute changes by visiting the website and social media of the event organizer whose links are indicated in the information field.
---