Feast of San Giovanni in Castelbuono
---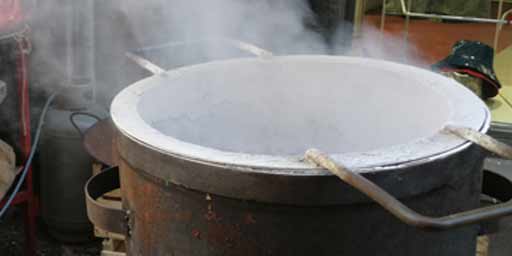 On 24 June in Castelbuono the traditional Fava beans and potatoes festival is organized every year. On the occasion of the festival, in the streets of the town, beans and potatoes cooked in the traditional "quarare", that is large copper containers, are offered to all passers-by.
The feast evokes an ancient propitiatory rite for the harvest which consisted in lighting fires in the streets on feast days. The flames of San Giovanni in Castelbuono arise from the tradition of lighting fires in memory of the sacrilege that Julian the Apostate committed by burning the bones of St. John to extinguish the cult. Since the feast of San Giovanni coincided with the harvest, he began to put the beans on the fire, as a sign of thanksgiving and a rite of prosperity. The tasting of broad beans, boiled potatoes and onions, accompanied by a good wine, represents a propitiatory rite to inaugurate the harvest. In the past, on the occasion of the feast of San Giovanni, the rite of the comparatico and commaratico was of considerable importance , an ancient custom of Castelbuono that represents the institution of a sacred bond, a kind of sacred union through which one becomes a "cumpari", a very strong bond that through St. John, was presented to God himself.
enjoysicilia.it is in no way responsible for any errors, omissions or changes due to unpredictable factors. We strongly invite you to check for any last-minute changes by visiting the website and social media of the event organizer whose links are indicated in the information field.
---