Feast of San Giuseppe in Roccapalumba
---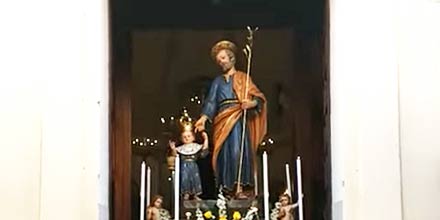 Dates and Schedule
Monday 20 March
01:00 Procession of the Child and blessing of the table of St. Joseph

08:30 Traditional procession of characters from the Holy Family

08:30 Traditional procession of characters from the Holy Family

09:00 Eucharistic celebration

11:00 Eucharistic celebration and blessing of the bread

16:00 Children return to the Mother Church

09:00 Eucharistic celebration followed by procession of the ancient simulacrum of St. Joseph

Traditions
The feast of San Giuseppe in Roccapalumba takes place on 18 and 19 March. The celebrations also take place in the hamlet of Regalgioffoli, a small village immersed in the green hills of Roccapalumba.
The feast of San Giuseppe takes place in coincidence with the spring equinox and this demonstrates how this feast has its roots in pagan rites of more ancient tradition. In fact, in Roccapalumba ancient rites full of meaning take place such as the rite of fire or light and the sacred banquet.
The festivities begin on the evening of March 18 with the procession of the simulacrum of the Child Jesus accompanied by music with fast-paced rhythms and from the traditional fanare, long torches made by weaving ampelodesm branches held in the hands of children. Furthermore, when the statue of the Child passes by, the traditional flashes of San Giuseppe are lit, large bonfires located in the various districts of the village.
On the occasion of the feast of San Giuseppe, the altars of San Giuseppe and the tavulate, tables laden with all kinds of dishes that are offered to the needy and orphans of the town, the virginieddi.
enjoysicilia.it is in no way responsible for any errors, omissions or changes due to unpredictable factors. We strongly invite you to check for any last-minute changes by visiting the website and social media of the event organizer whose links are indicated in the information field.
---