Feast of St. Joseph in Salemi
---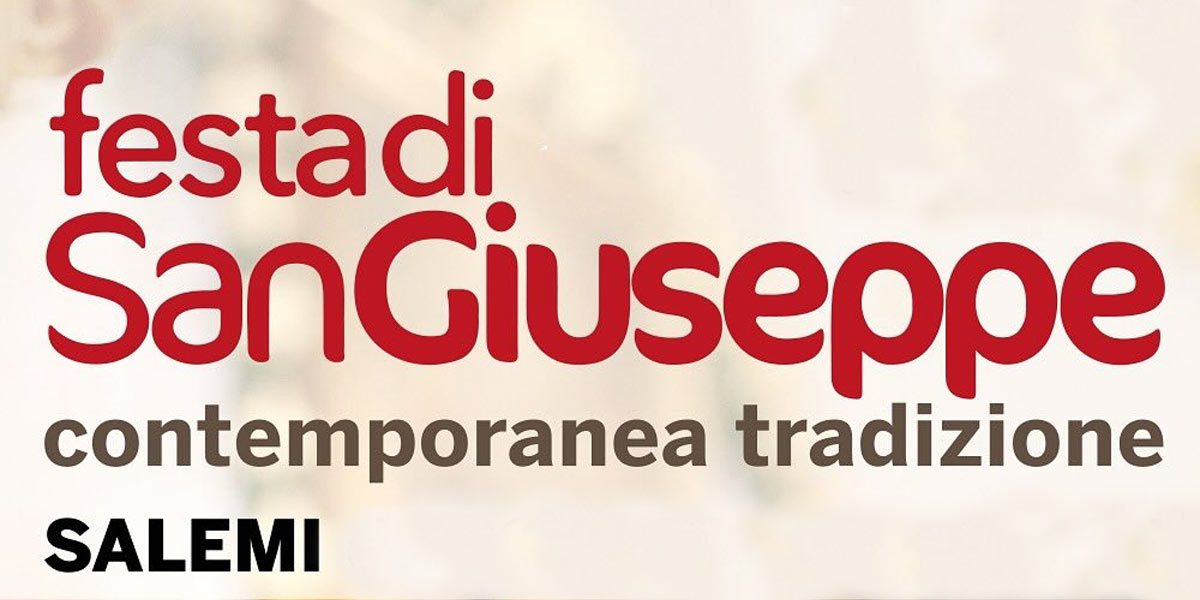 Carlo Columba - CC2.0
Dates and program
Venerdì 24 marzo
11:00 - 16:30 Tour tematico "Architettura ed Altari"
Comune di Salemi, Ass.to Culture e Turismo
Centro Storico
18:00 Presentazione del libro "Miti e leggende interattive:Munnura" e proiezione del docu-film "Munnura"
Associazione Artemisia
Via Amendola
Sabato 25 marzo
10:00 Pani e Paste della tradizione nella provincia di Trapani
UNPLI Trapani e Pro Loco Salemi
Chiostro di Sant'Agostino
10:00 - 20:00 Mercatini di Primavera
Pro Loco Salemi
Chiostro di Sant'Agostino
11:00 - 16:30 Tour tematico "Architettura ed Altari"
Comune di Salemi, Ass.to Culture e Turismo
Centro Storico
16:00 Street Art Realizzazione di un Murales
Associazione Socio-Culturale Peppino Impastato
Nuova Zona di trasferimento
Domenica 26 marzo
8:00 - 12:30 Raduno auto d'epoca
Fiat 500 Club "Sicilia"
Piazza Libertà
9:00 - 20:00 Ciborio di San Giuseppe
Parrocchia Matrice San Nicola di Bari
Chiesa Madre S. Nicola di Bari
12:00 Cena San Giuseppe - Invito ai Santi
Comune di Salemi, Associazione Giovani Don Bosco
Chiostro di Sant'Agostino
9:00 - 19:00 Altare di San Giuseppe
Museo del pane Rituale
9:00 - 19:00 Altare di San Giuseppe
Pro Loco Salemi
Piazza Libertà
9:00 - 19:00 Altare di San Giuseppe
Associazione AGA
Via Enrico Fermi
10:00 - 19:00 Laboratorio del Pane Votivo
Pro Loco Salemi e Ass. Giovani Don Bosco
Piazza Libertà
10:00 - 20:00 Mercatini di Primavera
Pro Loco Salemi
Chiostro di Sant'Agostino
11:00 - 16:30 Tour tematico "Architettura ed Altari"
Comune di Salemi - Assess. Cultura e Turismo
Centro Storico
17:00 Spettacolo itinerante della "Sud Street Band"
Ass.ne Musicale Sud Street Band
Centro Storico
18:30 Concerto etno-folk con i "Sicily Inside"
GN Events
Castello Normanno Svevo
Traditions
In Salemi the feast in honor of San Giuseppe is celebrated on March 19 and the festivities last for more days. The peculiar feature of the feast of San Giuseppe in Salemi are the traditional altars: wooden structures richly decorated with oranges, lemons, laurel twigs and above all with the characteristic breads that are worked by local women. The loaves take on different shapes, the main symbols represented are: the fish, symbol of the Christian tradition; the ladder, the pincer and the three nails, symbols of Pentecost; forms that refer to nature.
According to tradition, the devotee who organizes the dinner must set up a banquet of more dishes, mostly based on cereals, vegetables, fruit, fish and sweets in great variety. After the celebration of the ritual of the blessing of the altar and of the loaves, food is offered to the children, who represent the "Holy Family", and to the visitors who have witnessed the "eating of the holy ones".
The feast day of San Giuseppe, on March 19, in the morning the Holy Mass takes place, at noon "The invitation of the Saints", in the evening, the "Dinner" during which it is It is possible to attend the traditional recitation of the "Parts of St. Joseph", which consists in the recitation of chants and prayers, litanies and ancient popular "lauds" in dialect, handed down orally from father to son.
During the day, through the streets of the historical center, it is usually possible to taste numerous typical dishes.
enjoysicilia.it is in no way responsible for any errors, omissions or changes due to unpredictable factors. We strongly invite you to check for any last-minute changes by visiting the website and social media of the event organizer whose links are indicated in the information field.
---