Feast of San Sebastiano in Avola
---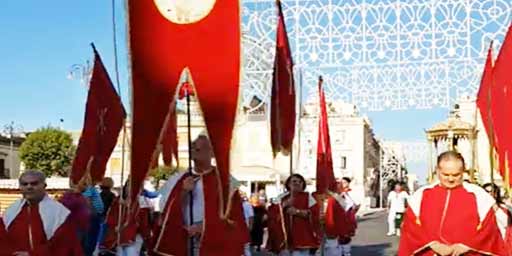 The feast of San Sebastiano in Avola takes place on the second Sunday of May. It is characterized by the traditional procession of the "nuri", the penitents. These, in ancient times, ran barefoot and naked as a sign of humility, while today, in a white dress surrounded by a red sash, they carry a bouquet of carnations and lilies in their hands. The procession begins from the votive shrine located on state road 115 and ends in Santo in the Mother Church. Throughout the procession the nuri invoke the name of the saint at the top of their lungs as a sign of thanks for the graces received or to ask for his protection. At nightfall, at the end of the celebration of the Eucharistic celebration, the procession of the simulacrum takes place which ends with the usual fireworks display.
It is tradition, on the occasion of the feast of San Sebastian, to give children the tambourine that generally accompanies a picture of the Saint and a red ribbon.
enjoysicilia.it is in no way responsible for any errors, omissions or changes due to unpredictable factors. We strongly invite you to check for any last-minute changes by visiting the website and social media of the event organizer whose links are indicated in the information field.
---