Feast of San Vito in San Vito Lo Capo
---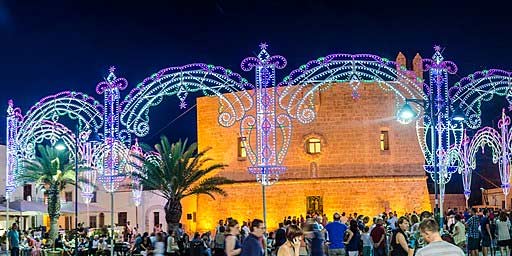 Filippo Piazza - CC3.0
In San Vito Lo Capo, the celebrations in honor of the Patron Saint San Vito Martire take place on 15 June. Great devotion binds the navy of the town of San Vito al Santo. The festival marks the beginning of the summer season.
The traditional game of "Antenna a mare" takes place on the afternoon of the festival day: on the end of a 10 meter long pole, suspended over the water and soaped, it is post a flag for the winner to grab. At dusk the boats in the port go out to sea to welcome the boat carrying the young Vito, his teacher Modesto and the nurse Crescence with the sound of their sirens and the launch of rockets. In the late evening there is the evocative procession of the simulacrum of San Vito carried on the shoulders by the faithful. At the entrance to the town, the Mayor hands over the keys to the Municipality, follows the solemn descent through the great road to the Sanctuary.
enjoysicilia.it is in no way responsible for any errors, omissions or changes due to unpredictable factors. We strongly invite you to check for any last-minute changes by visiting the website and social media of the event organizer whose links are indicated in the information field.
---