Feast of St. Anthony of Padua in Messina
---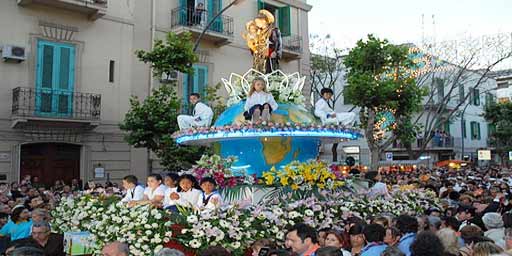 Marim141 - CC4.0
In Messina, on 12 and 13 June and the following Sunday, the celebrations in honor of St. Anthony of Padua take place.
On 12 and 13 June, pilgrimages take place from the early hours of the day until late in the evening. Barefoot and kneeling men and women walk through the nave of the Basilica as thanks for the graces received. Thousands of blessed sandwiches are distributed to pilgrims.
The Sunday after June 13th takes place the imposing and solemn of St. Anthony of Padua on the Majestic Triumphal Chariot . Devotees and pilgrims, wearing the Franciscan habit in memory of the graces received, many of them barefoot, push the Triumphal Chariot weeping and shouting their faith and joy. The Saint, covered with the votive gold of the faithful, is located on a large globe adorned with hundreds of flowers and is surrounded by about fifteen children dressed as sailors and escorted by Antonian pages, which indicate the great predilection of the Saint towards children and orphans.
enjoysicilia.it is in no way responsible for any errors, omissions or changes due to unpredictable factors. We strongly invite you to check for any last-minute changes by visiting the website and social media of the event organizer whose links are indicated in the information field.
---