Feast of Saint Lucia in Savoca
---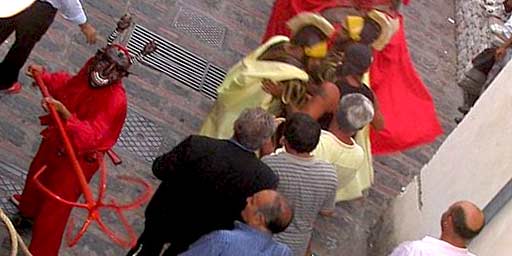 Pierpaolo.maimone - CC1.0
In Savoca every year, on the second Sunday of August, the celebrations in honor of the patron saint, Santa Lucia, take place. While on the occasion of the feast of St. Lucia, on December 13, solemn religious functions are held.
The feast consists of two moments: the solemn procession of the statue of the Saint through the streets of the village and the sacred living representation in period costumes of some scenes of the martyrdom to which Saint Lucia was subjected by the Roman governor Pascasio, in 303 AD
The protagonist of the representation are the little "Lucia" and "u Diavulazzu". The little Lucia it is played by a little girl in a white dress who is carried on the shoulder by a man from the village along the streets of the historic center. During the performance the little girl is tempted by the Roman soldiers, the Jews, who try to drag her with oxen by pulling and swaying the rope to which "Lucia" is tied. The other central character of the representation it is the devil, "u Diavulazzu" or "u virseriu", who, dressed in red, wears a terrifying seventeenth-century wooden mask and carries a fork in his hand. The devil, throughout the performance, tempts "Lucia".
This festival has Spanish origins as evidenced by the presence of oxen. The final scene of the performance, which takes place in the main square of Savoca, is very reminiscent of the feast of San Firmino in Pamplona. Lucia freed from the rope allows the oxen to escape through the alleys of the town. The flight of the "cows" of the "diavulazzu" and the "Jews", who represent the forces of evil, is the celebration of the victory of good over evil.
enjoysicilia.it is in no way responsible for any errors, omissions or changes due to unpredictable factors. We strongly invite you to check for any last-minute changes by visiting the website and social media of the event organizer whose links are indicated in the information field.
---