Feast of Most Holy Crucifix in Geraci
---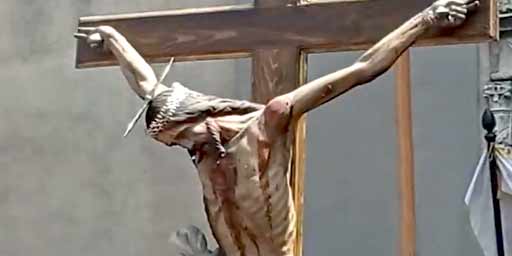 The feast of the SS. Crucifix according to the liturgical calendar occurs on September 14th, but by ancient tradition in Geraci Siculo it takes place on May 3rd. The magnificent wooden statue is venerated in the Church of Santa Maria La Porta.
On the morning of May 3, those who made the "Vow" during the year go to the Monastery of the Benedictine Sisters to pick up the "Torch ". After the celebration of the SS. Mass, around noon the "Procession" begins where the Confraternities of San Francesco, San Giacomo, Santo Stefano and SS. Sacramento, of the Madonna, and of San Bartolomeo, each wearing the "cape" of different colors. All preceded by the roll of the drums. The "Vara 'is decorated with flowers and with four showcases full of precious objects donated to the Crucifix for graces received. Behind the Crucifix the Mayor, the Municipal Administration and the Municipal Councilors, the Traffic Police, one of which bears" The Mazza "sign of power; On the sides of the "vara" the carabinieri with the ordinance costume and the red plume. Followed by the faithful, some barefoot, holding the votive "Cero" with a hanging white satin ribbon. The candle, which represents a "grace" received, remains unlit throughout the journey. Finally, there are the children "of the village who, barefoot and with a crown of twigs intertwined on their heads, cry out" PANI E PARADISU, MERCY SIGNURI ". The wooden statue is carried on the shoulders in turn by the faithful who compete to carry the "Vara" of the suffering Christ.
enjoysicilia.it is in no way responsible for any errors, omissions or changes due to unpredictable factors. We strongly invite you to check for any last-minute changes by visiting the website and social media of the event organizer whose links are indicated in the information field.
---