Infiorata of Carti Rizzi in Castelbuono
---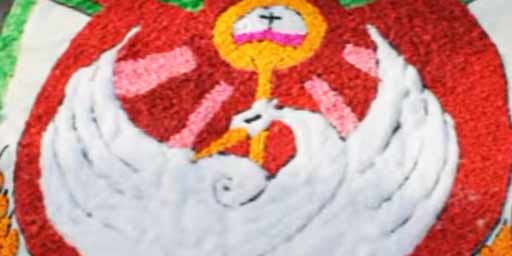 The Carti Rizzi di Castelbuono flower show takes place every year on the occasion of the Corpus Domini festival. It is the only infiorata made in Italy with paper.
The tradition of the so-called "carti rizzi" dates back to a few decades ago. At that time the children of the village used to cut long strips of paper, curl them and spread them on the road just before the passage of the Corpus Domini processions.
Today this tradition has been taken up by the "Carti Rizzi" cultural association and every year a paper carpet almost two kilometers long is created, with compositions of a religious nature and a free theme, in the journey of the Corpus Domini procession.
enjoysicilia.it is in no way responsible for any errors, omissions or changes due to unpredictable factors. We strongly invite you to check for any last-minute changes by visiting the website and social media of the event organizer whose links are indicated in the information field.
---