Easter in Comiso
---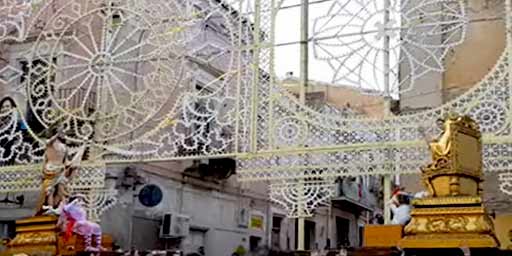 Dates and Program
March 26 Sunday - April 2 Sunday
10:00-12:00 | 19:00-21:00 Photo itinerary: Vivrò d'amore
Gesualdo Bufalino Cultural Circle
April 2 Sunday
8:30 Holy Mass
Basilica Santa Maria Annunziata
10:00 Traditional "Cena"
Basilica Santa Maria Annunziata
13:00 Blessing of the Palms and procession
Cappuccini Church
16:00 Traditional "Cena"
Basilica Santa Maria Annunziata
19:15 Blessing of the Palms and to follow Holy Mass
Basilica Santa Maria Annunziata
Aprile 6 Thursday
20:00 Power on "La Lucerna"
Basilica Santa Maria Annunziata
April 8 Saturday
21:00 Switching on Basilicata Staircase
Basilica Santa Maria Annunziata
April 9 Sunday
11:00 "A Sciuta" Air&Fire Show
Basilica Santa Maria Annunziata
April 10 Monday
18:30 Spettacolo Pirotecnico diurno
Basilica Santa Maria Annunziata
On the occasion of Easter in Comiso the traditional festival takes place characterized by the meeting between the simulacra of Maria SS. Annunziata and Risen Jesus, "A Paci".
Religious services and processions take place on Palm Sunday.
Holy Thursday visits to the Sepulchres take place, the faithful go to the churches, strictly in an odd number of churches, where the altars are decorated in a funerary way and adorned with seedlings of cereals sprouted in the dark that recall the links of the festival with natural cycles and with the Greek myth of Adonis.
On Good Friday the "Truocchila", that is a wooden bell, announces the beginning of the procession of the Addolorata and of the dead Christ in the urn.
On Holy Saturday there is the Easter Vigil and the "sciugghiuta 'a loria", that is the announcement of the Resurrection accompanied by chimes and firecrackers. There follows the "Notturna", clearly of Spanish derivation, during which the faithful follow the musical band that, during the night, moves through the streets of the city.
Easter Sunday opens with "A sciuta", that is the exit from the church of the simulacra of the risen Jesus and of the Madonna Maria Santissima Annunziata. The two statues meet and leave quickly on several occasions, while two children dressed as angels, with clothes faithfully reproduced according to the Catalan tradition of the seventeenth century, sing the Regina Coeli. These peaces are repeated in front of each church until late at night when the last peace is recited in front of Piazza Fonte Diana and marks the definitive meeting of the two simulacra.
enjoysicilia.it is in no way responsible for any errors, omissions or changes due to unpredictable factors. We strongly invite you to check for any last-minute changes by visiting the website and social media of the event organizer whose links are indicated in the information field.
---