The Procession of the Mysteries - Easter in Montelepre
---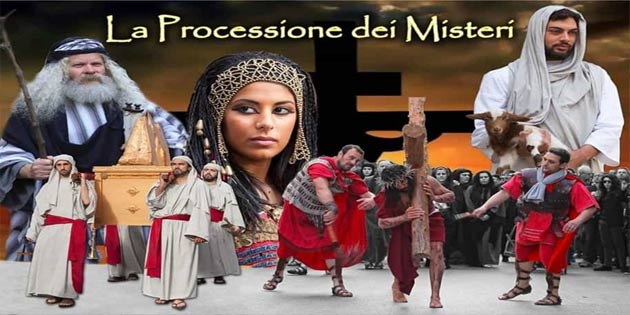 Sunday 2 April at 4.30 pm the evocative appointment with the Procession of the Mysteries in Montelepre is renewed.
Domenica 2 Aprile alle ore 16:30 si rinnova il suggestivo appuntamento con la Processione dei Misteri a Montelepre.
On Palm Sunday the procession of the Mysteries takes place in Montelepre. It is a traveling sacred representation in which about four hundred people take part. In the streets of the historic center of the village, about eighty paintings are staged that recall the most significant moments of the Old and New Testaments, starting from Adam and Eve up to the death of Jesus Christ. This sacred representation has ancient origins and is believed to date back to the first half of the seventeenth century.
On Good Friday the procession of the glass urn takes place with the ancient statue of the Dead Christ it is carried on the shoulders of the brothers of the congregation of the Galantuomini, followed by the statue of Our Lady of Sorrows, carried by the congregation of the Maestranze.
enjoysicilia.it is in no way responsible for any errors, omissions or changes due to unpredictable factors. We strongly invite you to check for any last-minute changes by visiting the website and social media of the event organizer whose links are indicated in the information field.
---