Procession of the Mysteries in Erice
---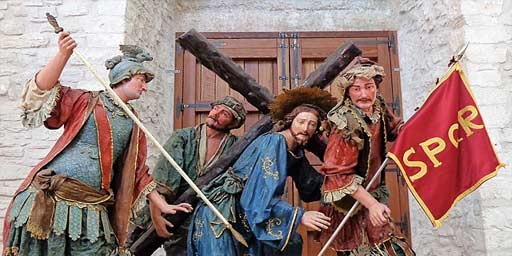 Effems - CC4.0
In Erice, on Good Friday the evocative Procession of the Mysteries takes place along the streets of the village.
This event has ancient origins, dates back to the second half of the 16th century, when scenic representations were held theatricals of the Passion of Christ. The largest representation held in Erice dates back to 1749 with 109 characters including the "vattenti", men who severely beat their bodies as a sign of penance. In 1762 the first "wooden statues" appeared and the number of living characters decreased drastically due to the high costs, in 1856 the use of "vattenti" was banned, the characters were replaced by wooden sculptural groups and the procession assumed a appearance more similar to today's one.
Today's procession takes place on the afternoon of Good Friday and starts from the fifteenth-century church of Sant'Orsola, known as the Addolorata, preceded by the procession of friars from the Congregation of Purgatory wearing embroidered white tunic of red. The "Mysteries", the eighteenth-century wooden statues, are carried on the shoulders and lined up in front of the churchyard, then carried in procession through the streets of the village.
enjoysicilia.it is in no way responsible for any errors, omissions or changes due to unpredictable factors. We strongly invite you to check for any last-minute changes by visiting the website and social media of the event organizer whose links are indicated in the information field.
---