Gorges of Alcantara
---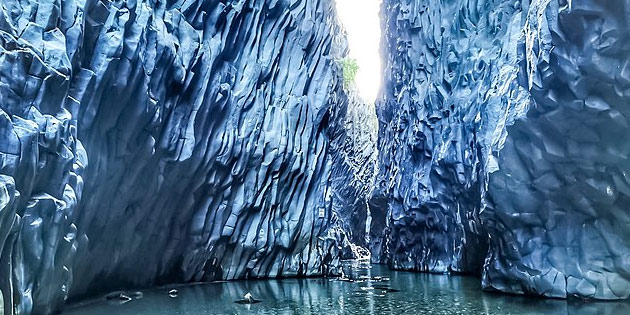 Giuseppe Scandura
---
Gorge of Larderia , commonly identified as Gole dell'Alcantara, is the most impressive and famous of the park's gorges.
Along its 400 m long, the greatest concentration of basalts can be observed columnar of Sicily. The basaltic lava, during solidification, created rocks of spectacular prismatic morphology with hexagonal, pentagonal or quadrangular section. These magnificent shapes are called organ pipes when they stand upright, woodpile if they lie horizontally, fan when they take shape arched.
It is possible to enter the canyon and admire breathtakingly beautiful scenery. The Alcantara Park offers the possibility, for the more adventurous, equipped with wetsuits, helmets and river jackets, to go up the river with an original body rafting path which, following the Vulcano Path, leads to the discovery of waterfalls, beaches and hidden ravines.