Sicilian carob
---
Agricultural Product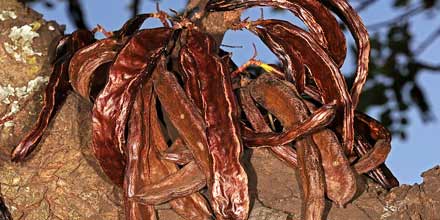 SAplants - CC4.0
Carob is a Sicilian product of high quality and with many beneficial properties.
Carob was imported to Sicily by the Phoenicians, its seeds are very dark and hard and were formerly used to weigh gold. There are many species of this particular Sicilian plant: the Morescana, the Racemosa, the Saccarata, the Latinissima and the Falcata.
The Carob has various beneficial properties: the skin is rich in vitamin E, the rest of the fruit is perfect for those suffering from gastrointestinal problems.
Carcao has been extracted from the Sicilian Carob, a low-fat cocoa substitute, whose taste is reminiscent of that of chocolate.
Carob is also used in aesthetics as ingredient for creams and beauty masks as it has a moisturizing action.
---