Sicilian Coppo
---
Handmade Product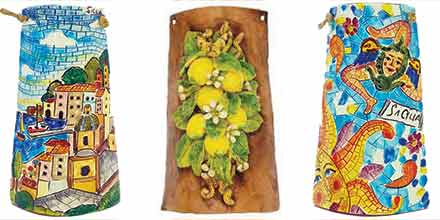 The Sicilian coppo is a tile that once covered the roofs of houses, and today, richly decorated, it is hung on the walls for decorative purposes.
The coppo comes from the ancient tradition, first Etruscan and then Roman, of working and cooking clay for the creation of versatile and resistant materials for building.
The Sicilian tile, given its particular shape that lends itself to being hung on the walls, has now become an original base for crafts and artistic decorations that recall the history of Sicily and represent glimpses and symbols of the island.
---