Whistles of Agrigento and Sciacca
---
Musical Instruments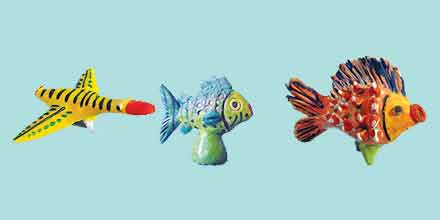 A typical production of the province of Agrigento is that of the whistle, a popular wind instrument of the Sicilian tradition.
This whistle has its origins in rural and pastoral culture: the whistle was born from the imagination of the shepherd who, returning home, dedicated himself to depicting roosters, birds, baskets full of flowers, well-dressed pupae and the patron saints.
In the territory of Agrigento, the production of the Sicilian whistle is transformed, from simple recreational activity, in a real handicraft activity.
For the making of the whistles, clay scraps were used, no longer usable for other works, which were pressed into casts sprinkled with plaster dust. The decoration of the Sicilian whistle was done cold, with water colors, earth and even tempera. The variety of colors was limited and was based on the fundamental ones: red, yellow, blue and green, black or brown for the details. The whistle was applied to the back of the statuette, at waist height for human figures, at the tail for animal figures.
In Agrigento the typical subject of the Sicilian whistle is San Calogero, the ruler of the city.
In Sciacca, some historical ceramists are very popular making small animal whistles: fish, pigs, hedgehogs, ducklings, stylized cockerels, according to a personal style that somehow breaks away from tradition.
---