Whistles of Caltagirone
---
Musical Instruments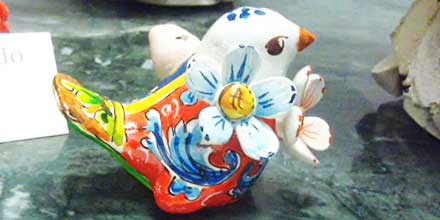 The Caltagirone terracotta and ceramic whistles are small works of craftsmanship that enclose the history and culture of this city.
The whistles of Caltagirone were in ancient times the games for the poorest children and were sold on the occasion of the town festivals: children were allowed to play the whistle during the processions of the saint.
The terracotta and ceramic whistles have the likeness of the statues of the saints: there were the terracotta whistles of San Giacomo, patron saint of Caltagirone, the terracotta whistles of the risen Jesus, the terracotta whistles of Our Lady of Sorrows.
Other whistles typical of Caltagirone ceramics are the whistles " ruscignolu ", that is the nightingale's whistles which, attached to a small jar filled with water, emitted a sound similar to the song of a bird. These particular whistles were given by boyfriends to girlfriends as a symbol of fertility.
---