Sicilian Quartara
---
Musical Instrument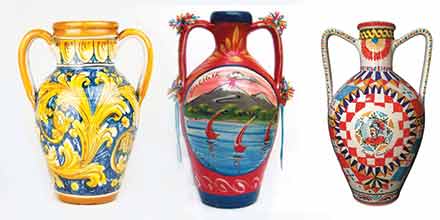 The Sicilian Quartara is a terracotta container that has ancient peasant origins.
The quartara is equipped with two large handles in the upper part and was used to transport and store water or wine. A smaller but similarly shaped version was used to hold and refresh the drinking water and was called "u bummulu".
The quartara is also a traditional Sicilian musical instrument: blowing into the vase, the quartara emits a sound dark, used as a musical accompaniment in Sicilian folk music.
The quartare today have become decorative and design objects, they are made of terracotta and ceramics and hand-decorated by artisan artists.
---