Sicilian Sfilato
---
Handmade Product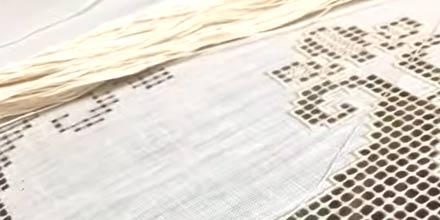 The Sicilian sfilato is an all-female art, born from the desire to embellish personal underwear and those intended for the home. It is an embroidery technique performed on linen canvas and with fine cotton threads and consists in removing the canvas in order to obtain a "net" which, once woven, allows to obtain a reticulate with the desired decorative motif. Flowers, leaves, scrolls, rosettes, figures and animals are embroidered.
The sfilato appeared towards the end of the 14th century in eastern Sicily, where, under the Arab domination, precious Moorish-style embroideries began to be made. The great success was achieved in the 1500s, above all thanks to the nobles and clergy who made great use of it.
Today the artifacts are made thanks to the imagination and skill of skilled women, who have been passing down the culture of embroidery for generations , an activity that from a simple pastime and a moment of social encounter became a real job, mostly on commission, capable of guaranteeing an economic income of considerable importance.
---