The arch of the Perugina Baci
---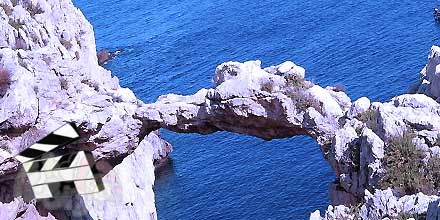 The Arco Azzurro di Mongerbino was the set of a famous advertising spot from the 1980s by Baci Perugina.
"Kisses, did you know? They are Words ". This is the text of one of the very first Baci Perugina commercials. In the spot, two lovers held hands on a wonderful rocky arch: the Arco Azzurro di Mongerbino, a natural monument and one of the most evocative views of the Sicilian coast.
Following this famous advertising spot, the arch was called by all "the arch of kisses" or "the arch of lovers".
The arch is located in the promontory of Capo Mongerbino, a seaside hamlet of Bagheria, and has been recognized as an environmental asset.
---