Places of "The little devil" - Taormina
---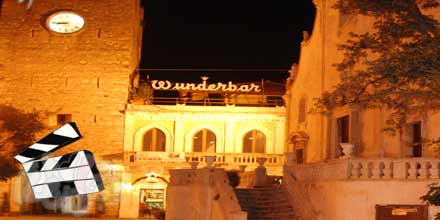 There are many scenes from the film "The little devil" shot in Taormina: at the station, in the main street and in many other places.
The little devil is a 1988 film directed by Roberto Benigni, and starred by the Tuscan actor himself together with Walter Matthau.
The film tells of Maurice, an American priest who lives in Rome, who following an exorcism on a woman, he discovers that the demon is a thin and witty man named Giuditta, who chooses to stay with the prelate instead of returning to hell.
The scenes in the film were shot in Rome, Pisa and Taormina.
The particular Taormina station is the station where Nina, played by Nicoletta Braschi, and the professor stop to wait for the taxi. The hotel where Nina is staying is the San Domenico Palace Hotel in Taormina. The bar where Nina kisses the unknown man is the Wunderbar in Piazza IX Aprile. The film also recognizes the small square in Via Pietro Rizzo, a bar in Via dei Fabi and the Palazzo Duca di Santo Stefano.
---