Malena - Syracuse
---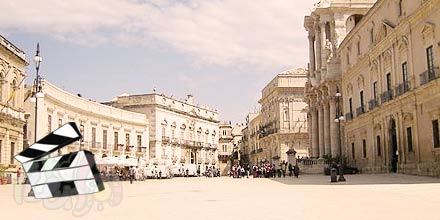 Several scenes from the film "Malèna" were set in the splendid Piazza Duomo and in other places in Syracuse.
Malèna is an Italian-American co-production film from 2000, starring Monica Bellucci, written and directed by Giuseppe Tornatore.
The film is about an attractive war widow, desired by all the men of her country, who feeds erotic fantasies by the young Renato. When some jealous people start spreading rumors about the young woman, the guy has to fix the situation. The film ends with Renato's nostalgic thought: after many years have passed and he finds himself old and resigned to the banality of his life, he admits that he has known and loved many women over time and that he has forgotten all of them. The only one who cannot forget is still her, Malèna.
The scenes of the film were shot between the cities of Syracuse and Noto.
Among the scenes shot in Syracuse, the splendid Piazza del Duomo appears, to which the Duce makes his speech. In the same square is the lawyer's office. The Gargallo School of the city is the school attended by Renato. Piazza San Giuseppe also appears, the square where Nino Scordia asks for news of his wife Malèna after missing from home for a long time.
---