Feast of San Giuseppe in Menfi
---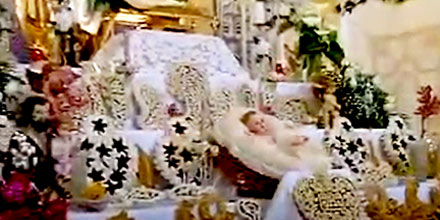 In Menfi the celebrations for the Patriarch San Giuseppe take place twice a year: on March 19, a date established by the Church, and on the second Sunday of August, as thanks for the summer harvest and as a sign of welcome to compatriots abroad and in Northern Italy, which in that period return to visit their families.
On the occasion of the feast of St. Joseph, on March 19, according to popular tradition, St. Joseph is celebrated by offering the Patriarch an Altar or Table as a sign of thanks for a grace received. It is an act of devotion, of great solidarity and of the will to give to others, to the "Saints", personified by the poorest people in the country, as well as sharing with the rest of the population. On the table various dishes, desserts of all kinds, various seasonal and non-seasonal fruits, cooked and raw cereals, citrus fruits and bay leaves. The ceremony ends with the sharing of "St Joseph's soup".
enjoysicilia.it is in no way responsible for any errors, omissions or changes due to unpredictable factors. We strongly invite you to check for any last-minute changes by visiting the website and social media of the event organizer whose links are indicated in the information field.
---