Easter in Castelvetrano
---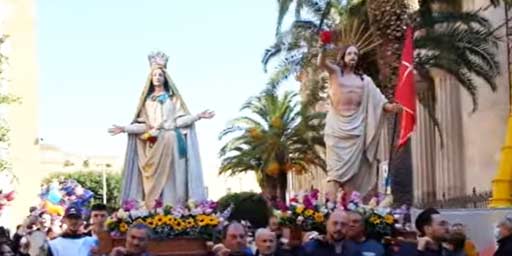 During the celebrations of Holy Easter in Castelvetrano one of the oldest religious and popular representations in the city takes place, the traditional "Feast of Dawn", celebrated on Easter day since 1860.
The functions of Holy Week begin on Sunday della Palme with the procession of Our Lady of Sorrows. The Madonna is represented in search of her Son, who has now entered Jerusalem.
On the evening of Holy Thursday the rite of the washing of the feet takes place inside the churches and, throughout the night, the traditional visit to the tombs.
On Good Friday, after the celebration of the Passion of the Lord, the "Scinnuta di la Cruci" takes place in the chapel of the Holy Calvary, ie the "descent of the cross", during which the dead Christ is placed in a glass urn and carried in procession.
The Festa dell'Aurora takes place on Easter Sunday in Piazza Carlo d'Aragona. It is a medieval propitiatory rite linked to the Christian meaning of Easter, introduced in 1660 by the Discalced Carmelite fathers of Santa Teresa. To represent him are three statues carried on the shoulder: that of the Risen Christ, dressed in white with a flaming red flag in his hand, that of Mary the Madonna, dressed in a long black mantle, and that of an Angel. When the statues of Christ and the Madonna meet, the statue of Mary spreads her arms to cling to her son, Her black mantle falls off and the Madonna appears with a rich festive mantle. The sacred manifestation ends with the flight of doves and birds.
enjoysicilia.it is in no way responsible for any errors, omissions or changes due to unpredictable factors. We strongly invite you to check for any last-minute changes by visiting the website and social media of the event organizer whose links are indicated in the information field.
---