Easter in Ispica
---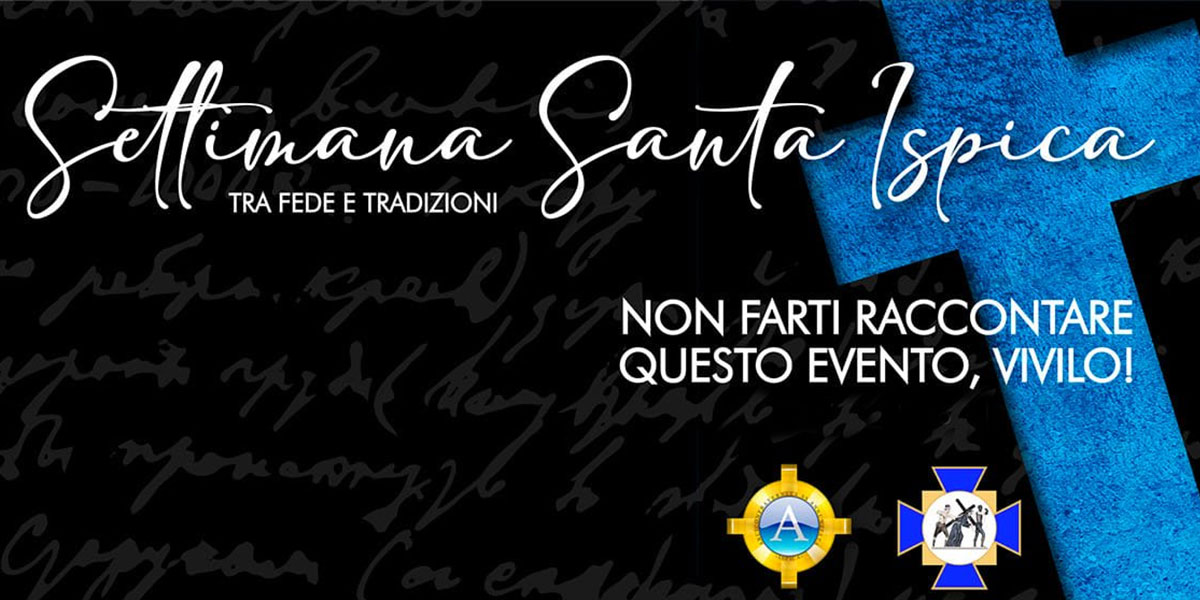 Dates and Program
Venerdì 31 marzo
22:00 Living Via Crucis
Piazza SS. Annunziata
Traditions
In Ispica, on the occasion of the celebrations of Holy Easter, faith, tradition and folklore come together to offer spectacles of great beauty.
On the night of Holy Thursday a suggestive procession starts from the rock church of Santa Maria della Cava and arrives at the basilica of Santa Maria Maggiore, in the square in front of which the Crucifixion and the deposition of Christ are staged. The traditional opening of the doors follows: at 4:00 o'clock the parish priest knocks three times on the door of the basilica which will open allowing the devotees to enter. At 11:00 the parish priest goes up to the altar of Christ scourged at the Column and knocking three times makes the doors that hide him slide down. This is followed by the rite of the "scinnuta", that is, of the "descent". In the afternoon the long procession begins in which the simulacrum of the Addolorata and the scourged Christ at the Column will meet: according to the rite, the Mother of Sorrows bows three times before her Son.
Good Friday, locally known as "U venniri ra 'Santa Cascia ", takes place the procession of the reliquary urn containing a fragment of the crown woven by the Romans and placed on the head of Christ, called" Santa Cascia "where" Cascia "indicates" Urn ", and the dramatized re-enactment of the Passion and Death of Christ . The procession starts from the basilica of SS. Annunziata and is preceded by two Roman soldiers on horseback, and during the tour through the streets of Ispica she will meet the Addolorata carried on the shoulder by Cavari. Slowly the procession heads towards the church while the band plays funeral marches. Only when it is dark will the devotees return Christ to the Cross in his altar, but not before having made some turns in the aisles of the basilica.
Easter day is celebrated the Feast of the Resurrected, the Risen Christ of the Basilica of the Most Holy Annunziata. The Easter procession follows in which the simulacra of the Risen Jesus and the Madonna meet. The meeting ends with a spectacular race to the church.
enjoysicilia.it is in no way responsible for any errors, omissions or changes due to unpredictable factors. We strongly invite you to check for any last-minute changes by visiting the website and social media of the event organizer whose links are indicated in the information field.
---