Fiumara d'Arte
---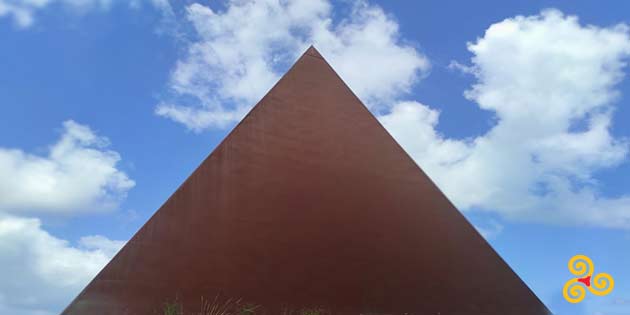 Giuseppe Scandura
---
The Fiumara d'Arte is an open-air museum consisting of a series of twelve works by contemporary artists located along the banks of the Tusa river.
"Matter could not exist" is the first work of the river and is located in Castel di Tusa. Made of reinforced concrete and eighteen meters high, it was built in 1986 at the behest of Antonio Presti who dedicated it to the memory of his father, and was built by Pietro Consagra.
"A curve thrown behind time", dates back to 1988 and is located in Castel di Lucio, the work of the sculptor Paolo Schiavocampo.
"Monument for a Dead Poet", also known as Window on the Sea, is a 1989 work by the sculptor Tano Festa. The sculpture, 18 meters high, is located on the seafront of Villa Margi, part of the municipality of Reitano.
"Wall of life" created 1993 forty ceramic artists from all over Europe created a collective work on the retaining wall of one of the Fiumara streets in the territory of Mistretta.
"Atelier on the sea" is a hotel located in Castel di Tusa, commissioned by Antonio Presti in 1991, in which each room is decorated by one or more contemporary artists.
"Heretical horse" sculpture by the artist Antonello Bonanno Conti placed in 2020 in Castel di Tusa, in front of the art hotel.
"Domestic Museum" is a museum that exhibits the works, cut and given to the citizens of Pettineo, by dozens of artists created as part of the "A kilometer of canvas" event which took place in 1991 and in the following six years.
"Pyramid" is a hollow titanic tetrahedron, made of Corten steel, built on a hill in the territory of Motta d'Affermo, built in March 2010 by the sculptor Mauro Staccioli. The Pyramid, overlooking the sea and as the crow flies in front of the excavations of the ancient city of Halaesa, and where it is built is aligned with the 38th parallel.
"Arethusa" is a ceramic work located in the Carabinieri barracks of Castel di Lucio, the work of the artists Piero Dorazio and Graziano Marini.
"Room of a golden boat", the work of the Japanese artist Hidetoshi Nagasawa, is located on the bed of the Romei stream, in the territory of Mistretta.
"Mediterranean energy" by Antonio Di Palma, is located near Motta d'Affermo.
"Ariadne's labyrinth" by Italo Lanfredini located near Castel di Lucio on a low hill.