Cavagrande lakes
---
---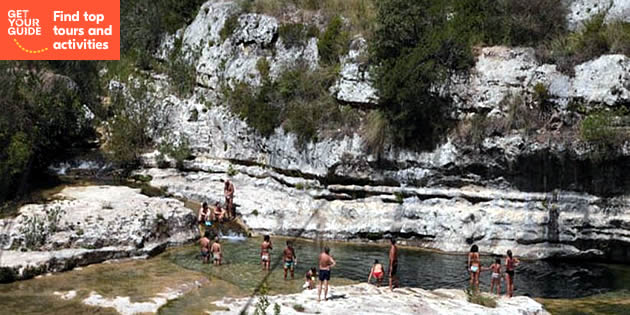 Experience the natural beauty of the Cavagrande del Cassibile Reserve on a guided hiking tour. Explore the trails, and enjoy the uncontaminated nature of the Iblee valleys.
---
The Laghetti di Avola , or Laghetti di Cavagrande , are a small naturalistic paradise immersed in the Cavagrande del Cassibile Nature Reserve , they are natural pools of blue and crystalline water hidden in a canyon in the middle of unspoiled nature.
In the valley floor of the canyon, the Cassibile river, over the millennia, has also created about twenty small lakes with fresh and clear, locally called "uruvi", and numerous waterfalls that every year in the summer attract thousands of tourists and residents attracted to one of the most suggestive places to swim.
The American TV CNN has included them in the Top 20 places in the world where it is worth taking a dip .
There are numerous paths that lead to this corner of paradise. "Scala Cruci" is the best known route and is suitable for everyone.The lakes can be reached after about 60 minutes of descent along a path that passes through lush woods and limestone rocks that rise on both sides.