Ceramics of Sciacca
---
Handmade Product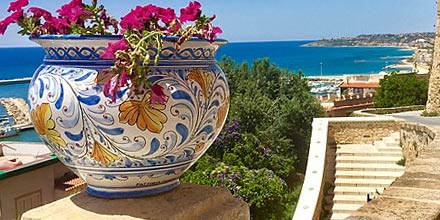 Stephanie Kroos - CC2.0
The handicraft of Sciacca finds its expression in the majolica ceramics.
The tradition of ceramics in Sciacca has very ancient origins and still respects the colors and shapes of the ancient tradition.
The local handicraft of Sciacca is specialized in the production and decoration of vases, plates, tableware, furnishing ceramics, votive tiles, plates, vases, bottles and in the modeling of statuettes and puppets. The typical colors of Sciacca's ceramics are blue, copper green, straw yellow, orange and turquoise.
---