Genovesi of Erice
---
Dessert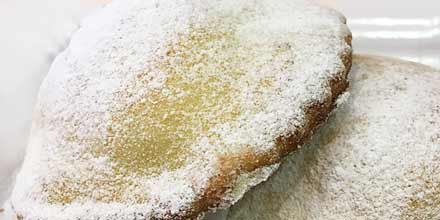 Enzo Rippa - CC4.0
Genovese is the typical dessert of the city of Erice: it is a large shortcrust pastry filled with custard, baked in the oven and then garnished with icing sugar.
The origins of the name "Genovese" are still uncertain today. A first hypothesis claims that the name of this dessert derives from the shape of the typical hat of the Genoese sailors who went to the Sicilian coasts for trade. A second hypothesis attributes its creation to a woman from Erice, in love with a Genoese man, who would have prepared this dessert to welcome the arrival of her beloved in Sicily. A third hypothesis connects the Genoese to the Genoese Panarelle, typical Ligurian cakes that would resemble the shape of the Sicilian dessert.
Whatever the origin of this dessert, it is certain that the Genoese owes its diffusion to the cloistered nuns that a once they lived in the many monasteries of Erice. It was from these convents that the Genovese recipe began to spread rapidly first in the territory of Erice and then throughout Sicily.
---